This feature by Elizabeth Burns, M.A., LPC is Part 2 of 2 in a series about use of multimedia in DBT phone coaching. Through this series, Elizabeth explores how she uses supplemental resources in her work with clients when delivering DBT, sharing a variety of specific resources from her files. In the first part, Elizabeth began by sharing how she has curated multimedia content in service of delivering DBT and giving several examples of how she uses it. In part two, she will discuss the value of reciprocal communication of multimedia content, encouraging clients to curate their own resources on their phones and making a YouTube channel for their practice. She will also touch briefly on ethics and online content.
---
I have found value in reciprocal use of multimedia content as a part of a phone consultation. It can enhance the use of skills and strengthen the therapeutic alliance. I found some research that supports my practice experience. I expect that the effects of the pandemic on mental health care will push even more research in this direction.
Two-way messaging therapy for depression and anxiety: longitudinal response trajectories
Here's an example of how I use reciprocal texting:
A client started painting during the pandemic to distract from her loneliness and sadness. She texts a picture of her most recent art project.

I validate her and text back a short video of the book, The Dot.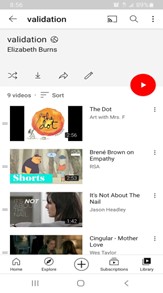 Another anecdotal example:
A client has prepared for a week to deliver a DEAR MAN to his elderly Dad stating that it is time to take his driver's license. On the morning of the meeting, I send an encouraging song from my DEAR MAN playlist: Say by John Mayer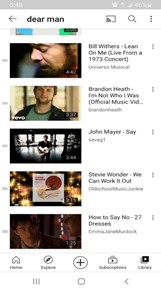 Several hours later, I receive the following video letting me know how it went: Rocky 1 Training with "Realistic" Audio 
What does the research say?
Well, research suggests that age matters. The younger clients respond more frequently to a supportive text than older clients. However, it is my experience that all clients actively participate regardless of their age.
Participant profiles in age and prior texting knowledge
When coupled with an evidence-based treatment, text interventions are considered both safe and promising.
Augmenting Evidence-Based Care With a Texting Mobile Interventionist: A Pilot Randomized Controlled Trial
 Making a YouTube channel for your practice.
I found it easy to make a YouTube channel for my practice. I also decided to spend $10.00 a month to subscribe to YouTube so that I can use the channel in class free of ads. The channel benefits my work. I can easily create a playlist for the DBT class each week, and I can smoothly toggle from a handout to showing a video and back.
Follow the easy instructions for creating a YouTube account in this video.
I do not make my own YouTube content, but your practice certainly could. I curate all my playlists from the vast content already available.
One of my more recent finds is from the University of Rutgers DBT Clinic. They make their own videos that I believe you will enjoy. Find their channel here.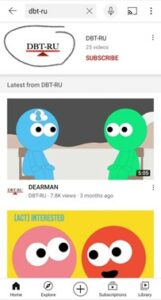 Here are a few more YouTube channels to review:
The goal of phone consultation is to help our clients generalize DBT skills into their everyday lives. In that spirit, I encourage my clients to curate their own skills-related content in their phones. The best way I have facilitated this is through skills training and homework. I frequently ask class members to send me videos, poems, movies, and quotes related to the module. They share them in class.
Over time, clients end up with their own treasure trove of skillfulness tucked away in their phones.
Ethics and Online Content
Lastly, I have a couple of quick notes on ethics and online content.
I let my clients know that I do not make money on any of the content that I share. I have no relationship with any of the products or artists in my collection. I have a YouTube channel connected to my practice where I have curated videos in DBT skills categories that is free of personal content. 
I score high on irreverent communication, so some of my YouTube content can be colorful. I am mindful of my audience and try not to offend them. I am clear with clients that I do not interact on social media. Prior to sharing homework related content with a class, I review everything for appropriateness.
I hope this was helpful. I look forward to discovering a lot more DBT content to share with my clients in the future!
For more on Phone Coaching in DBT, check out this blog series from Dr. Alexander Chapman.
---
Elizabeth Burns, M.A., LPC is an advanced intensively trained DBT therapist. She has provided DBT therapy and skills training to individuals and families for 19 years. She has been the Ethics Chair for the Licensed Professional Counselors Association of Georgia 2015-2016. Read Elizabeth's full bio here.
Disclaimer: The Behavioral Tech Institute blog is designed to facilitate the sharing of ideas, experiences, and insights related to Dialectical Behavior Therapy (DBT). The content and views expressed in the articles, comments, and linked resources are those of the individual authors and do not necessarily reflect the views, policies, or positions of Behavioral Tech Institute or staff. Content is provided for information and discussion purposes only and is not intended as professional advice. Contributors to the Behavioral Tech Institute blog are independent, and their participation does not represent an endorsement by Behavioral Tech Institute.